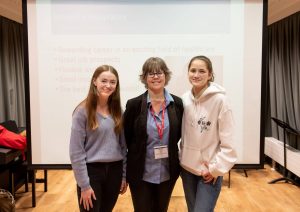 In February I had the honour of speaking about my career in chiropractic to 90 girls in year nine at St. Catherine's School in Bramley.  In year nine students decide which subjects to take for GCSE and this can have a big impact on future education.
I shared what A level subjects you need to take and the subjects you needed to take during your training, and what it entailed. We talked about what chiropractic was as a profession and philosophy, and what kind of areas you can specialise within the profession from paediatrics to rehabilitation, neurology as well as equine chiropractic.
I shared how many chiropractors are working within the field of sports and how exciting it has been for those who have taken part during the Olympic games. The girls couldn't have been more positive and enthusiastic and they asked me really good and pertinent questions about chiropractic and other manual therapy degrees that are available. I loved when one of them asked me if chiropractic could help stress. And this is one if the reasons I go out and do talks in the community to teenagers as I see so many in my clinic for physical stress due to emotional stress and tension.
The St Catherine's made me feel so welcome and were so friendly and positive too. I loved visiting the school and meeting both the students and teaching staff.
I feel all students need support to be able find their own unique natural talent and also the knowledge to make the right choice for them so they can find a profession that can give them as much joy and work satisfaction as I have experienced within chiropractic. I love my job now even more than I did when I started 28 years ago, and I honestly don't think many people can say they are as passionate about their profession than many chiropractors do. It is a profession where we help people get better quality of life on a daily basis and this is so worthwhile.
I feel really strongly about encouraging girls into STEM and have previously worked twice at a charity event run by the 1851 trust in Portsmouth where they run road shows for girls in the Schools around Hampshire. During these sessions we have worked with 120 girls in one day helping them with finding their own growth mindset and 'I can do' attitude.
The reason why I have spent the last 12 years touring Schools and running workshops to teenagers is that I was not a natural STEM student myself. In fact I avoided science as much as I could, and chose a Swedish A level (3 years) which had only one year of maths, and the rest was dedicated to languages and liberal arts subject. I did English, French, Spanish and Latin and I have to say I loved all my subjects at the time.
After a gap year in Paris learning French and being an au-pair, I finally realised however, that I wanted to become a Chiropractor. The combination of practicing manual medicine without using drugs, but through a dedicated and accepted course was really attractive to me. Initially I had wanted to become something withing the healing arts, but I didn't have the confidence at the time to study medicine or nursing, so I had therefore chosen languages.
But after learning about chiropractic I decided I had to give it a try. So, I went back to education and took a concentrated course in maths, physics, chemistry and biology, in one year. I worked really hard with my very patient dad who was a scientist, and he really had to go back to basics for me to grapple with the subjects. But as I had a goal in mind I was determined and undeterred. It was so hard but I feel so much better for having gone out of my own comfort zone. It changed the course of my life.
I finally passed and consequently went to the then Anglo European College of Chiropractic College (AECC) in Bournemouth. Had I known how challenging it was going to be, I might not have done it, but I am so glad I just went and took the challenge head on. I made life long friends during these four years from all over the world and it was an incredible time at our alma mater for our undergraduate degree.
However, really finding my passion happened a few years later when I started training within chiropractic paediatrics and also cranial principles. Here I found my natural talent and also passion. This has fuelled me day on day for the past 28 years and has given me the dedication to initially teach chiropractors for 15 years and now teenagers in Schools and workshops for the past 12 years.
I absolutely love teaching and seeing lightbulbs going up inside peoples head.
Five years ago, I got the inspiration to start the Surrey Teen Summit, a community group where we work with teenagers to empower their confidence and resilience, and this is where the Study Strategy Sessions were started. We love helping students find their natural ability to learn and overcoming their own inner prejudices and believes of what they can and can't achieve. This has now morphed into the Teen Talk series and is also linked with our new community project called the Wellbeing garden for teens with mental health in our walled garden behind the Luck's Yard Clinic.
This week I have worked with our Teen Talk team with students from all over Surrey in different scenarios and it is incredible to see students who are stuck and despondent realising that they can find another and more creative way to learn, and becoming their own inner leaders for themselves. It has put a smile on my face and it has given me a strong purpose.  Education is key for young people and even if the educational system is very rigid and fixed, we are aiming at helping students to navigate it better in their own individual way.
For more information I highly recommend looking at the WISE programme online and take their personality quiz on: www.myskillsmylife.org.uk. to find out their own natural talents, and for more information about this you can go to: info@wisecampaign.org.uk
Tone Tellefsen Hughes DC, BSc, FRCC (paeds)
Luck's Yard Clinic