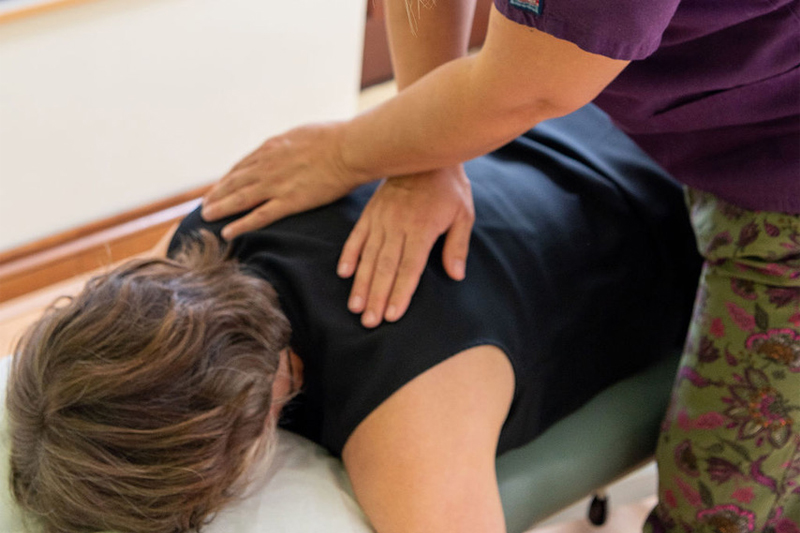 Chiropractic
We have five chiropractors at the Luck's Yard Clinic, nr. Guildford, Surrey – Tone Tellefsen Hughes, Mariana Ferencakova, Nic Langlois, Mike Marinus and Laura Hack.  All are fully qualified, experienced chiropractors and are either Members of the British Chiropractic Association or the United Chiropractic Association, and state registered with the General Chiropractic Council.
Luck's Yard Chiropractic Clinic, Godalming nr. Guildford, Surrey serves the local community and beyond, with clients from all over the South East including London.
Chiropractic is a health care profession that specialises in diagnosis and treatment of conditions that are due to mechanical dysfunction of the joints and muscles and the effects of these on the nervous system. We use gentle and specific techniques to align the joints and therefore restore nerve and muscle function and balance. The aim is to relieve pain and reduce muscle spasm, as well as helping restricted joints to move better.
It also aims to restore movement to stiff joints whilst strengthening and re-educating muscles and ligaments. As well as providing pain relief, chiropractic care aims to improve stability, flexibility and movement of the body.
More about Chiropractic
What is chiropractic?
Chiropractic is a form of healthcare, which is concerned with the joints, bones and muscles of the body and their effect on the nervous system. It is primarily focused on the spine, but at Luck's Yard Clinic we look at the whole body and may just as well focus on the feet or the neck.
How does it work?
Chiropractic care aims to improve and restore joint mobility and function of the spine and extremity joints – feet, knees and hands. By doing so, we help the nervous system and the postural muscles work to their optimum potential.
What does a treatment involve?
When you arrive at our clinic you'll be assessed by one of our qualified Chiropractic team.  Once we have diagnosed your problems we treat you through gentle adjustments or manipulations by hand to free joints that are not functioning properly. Poor, inadequate or incorrect function in the spine can cause irritation of the nerves and muscles that control our posture.
How chiropractic treatment can help you
Chiropractic can help to treat the following conditions:
Acute chronic back pain
Lumbago
Sciatica
Migraine prevention
Neck related headache
Mechanical neck pain
Inability to relax
Generalised aches and pains
Muscle spasms
Joint pains
Extremity joint conditions
Elbow pain
Tennis elbow related to the neck
Chronic neck pain in combination with massage
Rotator cuff injuries
Soft tissue disorder of the shoulder
Hip pain
Plantar fasciitis
Ankle sprain
Cramp
Hip and knee osteoarthritis
Minor sports injuries and tension
Our Clinic is located in Milford in Surrey and is easily accessible from the A3 and surrounding villages. There is limited parking outside the clinic which we kindly ask to be kept for patients who have mobility issues or those with babies and young children. There are many parking areas nearby.
If you would like to find out more about our services please call our friendly reception team on 01483 527945.
Introduction to chiropractic