What our fans say about Lucks Yard Clinic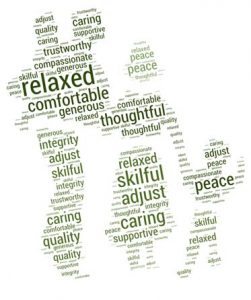 At Luck's Yard we are constantly striving to do our best to ensure that you receive the best possible care and service from us. Our aim is to be friendly, efficient, but also personal, making sure you can feel at ease and relaxed with us. We love to hear from our patients and it is important to all our therapists that each patient receives the very best treatment whilst under our care.
We want to hear from you so please keep telling us how we can improve our service. Please also 'like' Luck's Yard Clinic on Facebook and chat to us there or drop your ideas into our suggestions box at the clinic.
Have a great day and we hope you enjoy browsing our testimonials from lots and lots of satisfied customers.
"Verity has always made me feel genuinely listened to and has therefore enabled me to talk about my feelings. This in turn has allowed me to explore my options in a more objective, calm way."
"Verity is a very unique therapist in that she is both an experienced art teacher and a counsellor. She can effectively use both these skills in a creative way to help people figure out who they are and how they feel inside. She is very experienced and makes anyone feel comfortable with her calm personality and gentle nature. I know that anyone who would start to work with her would benefit enormously."
Tone Tellefsen Hughes DC, BSC, FRCC (paeds)
Director / Luck's Yard Clinic
"Verity is one of those people who you seek out in troubled times because she is compassionate, kind, patient and above all, genuine. She is a fantastic listener and has the ability to instantly put you at ease. I would like to thank Verity for her invaluable support during some difficult times in my life."
"I would and do recommend Luck's Yard Clinic, because of the excellent practitioners working there. Tone Tellefsen has been my chiropractor for years and most of our newborns see her. Frances Box is so informative and excellent too. The clinic has a lovely atmosphere."
"I visit Luck's Yard for several reasons. Tone has looked after my back, neck, hips and knees for some years. She is very clever and knows so much. Each treatment is suited to each visit. Over a period of time I have cut down a lot on painkilling tablets. Plus, the whole place is restful and attractive."
"I have been successfully treated by three of the practitioners at Luck's Yard Clinic. They are all very professional, very friendly and pleasant to be with. The overall feeling at the Clinic is one of relaxed and friendly professionalism."
"Last night John and I spent a valuable hour at Luck's Yard Clinic with Tone, supported by Priscilla, talking to a group of us about backs and back pain. After a lovely welcome and tempting biscuits to munch on, Tone talked to us about caring for our backs. Various skeletons illustrated points that she made and we learned how good posture is the key to it all. Quite a few of us more elderly folk didn't necessarily have the benefit of Human Biology at school and I personally felt it a great lack in my education. You can read all the books and look at all the pictures, but to have an expert talking to you with the opportunity to ask questions is quite a privilege. Thank you, Tone. More please! You should have seen how John and I were sitting up straight watching television when we got home!"
"Lucks Yard Clinic is a delightful Chiropractic and Health Care clinic in Milford, Surrey. It has a warm, friendly welcoming atmosphere. Tone is a very gifted practitioner. I always benefit from my treatments with her, feeling much more energised, flexible and comfortable. I would recommend anyone suffering from back pain to try the experience."
"I have been a patient at Luck's Yard since it opened in June 2007, mainly for podiatry, chiropody and chiropractic massage. The treatment is excellent, the practitioners charming and very efficient."
"They've got it all at Luck's Yard including a warm, welcoming atmosphere. They care, they treat, they explain and they make a difference. It was my lucky day when I found them because it changed my life and is the best natural health resource in the area."
"Excellent service from various members of the clinic. Very effective treatment."
"Visiting the Luck's Yard Clinic is like coming home, only better! It has an incredibly friendly atmosphere and the chiropractor I met there (Mariana) completely sorted out my sore neck and shoulder which was so bad I could literally not get out of bed in the morning. Tone is an outstanding and inspirational woman, who radiates positive energy. If only everybody could be like her, the world would be a much better place!"