What our fans say about Lucks Yard Clinic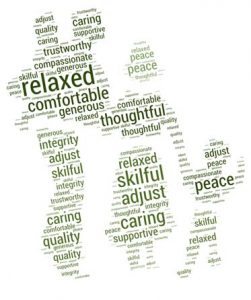 At Luck's Yard we are constantly striving to do our best to ensure that you receive the best possible care and service from us. Our aim is to be friendly, efficient, but also personal, making sure you can feel at ease and relaxed with us. We love to hear from our patients and it is important to all our therapists that each patient receives the very best treatment whilst under our care.
We want to hear from you so please keep telling us how we can improve our service. Please also 'like' Luck's Yard Clinic on Facebook and chat to us there or drop your ideas into our suggestions box at the clinic.
Have a great day and we hope you enjoy browsing our testimonials from lots and lots of satisfied customers.
Tone is a good listener and is always helpful in advising and promoting self help, as well as providing first class treatment. I can't imagine going anywhere else. Philip
" I absolutely recommend Laurie (Harvey) … If you want to alter your perspective/change something in your life and you're ready & willing to make the effort, she's the lady to guide your hand and lead the way!"
We recently installed a white board in Reception so patients could let us know how they felt after their care at the clinic. We have had so many lovely comments across all the therapies and we are so grateful for everyone's feedback!
Here are some of their lovely comments:
I felt happy – patient aged 6 (Mariana chiropractic)
Tone is the best chiro
Never had such a wonderful treatment and so thorough (Tone chiropractic)
Great! Thank you Tone (chiropractic)
No more headaches, life without pain (Mariana chiropractic)
I feel taller (chiropractic)
I feel lighter (chiro)
Rob is a genius (massage)
Released! Thank you Mike (chiropractic)
Thank you (sports rehab)
To be able to move without pain! (chiropractic)
I feel great! (chiropractic)
I feel so much better already (chiro)
I'm light as a feather – Tone has fabulous fingers (chiropractic)
Already feeling much better
Wonderful! Delightful!
I feel smooth and relaxed
Pain free after one appointment with Mariana (chiropractic)
I am unlocked (chiropractic)
Thank you Tone for mobilising my foot – feels as if you've given me a new one! (chiropractic)
Thank you for putting my back together again Tone (chiropractic)
As always, Tone has helped me feel cared for and inspired (chiropractic)
Happy and better
I feel good
Amazing
Always feel good after a treatment, Tone has improve things a lot (chiropractic)
Tone makes me feel good (chiro)
Tone is unwinding me and straightening me out one crunch at a time and it feels liberating! (chiropractic)
I feel afterwoods (sic) that I have soopar (sic) powers!
Sophie is brilliant – she understands the issues and tailors treatment – made me an acupuncture convert (sports rehab/acupuncture)
Walking on air! (podiatry)
A weight has been lifted (chiropractic)
Tone takes 10 years off my body! (chiropractic)
Mike made my bones feel great (chiropractic)
Mariana has kept me moving for the last 2 years (chiropractic)
Mike is amazing and fantastic with little people! (chiropractic)
My whole family have used Luck's Yard for many years as you know you will always be made very welcome and with their range of practitioners there is always someone who can help. I would and do recommend them to everyone!  Alice Manuel
Sophie is brilliant as an accupunturist and sports masseuse. The pain in my leg has radically reduced thanks to her and that is after I have tried physio which just wasn't working.
Z King
Not only can Tone pinpoint the problem in the very first session – thanks to her exceptional knowledge – she can also advise on lifestyle changes to help speedy recovery.  She is unique in her holistic approach to physical health by nurturing the mind-body connection in consultations.  I cannot recommend her highly enough.
Helen Hurley
Wow, a new experience in Chiropractic and massage.  What a wonderful place with such genuinely lovely people.  My mental stresses and physical pains are hugely improved with the treatments provided.
Katherine Thompson
I started seeing Tone in my fifth month of pregnancy because I fell down the stairs and twisted my hip.  I felt comfortable getting adjusted by her from the first second.  Her knowledge is impressive and her way of working is full of love and caring for her patients.  I got adjusted by her and her team throughout the whole pregnancy and have seen her after delivery to get me and my baby checked.  Antenatal I have seen her reflexologist who sadly retired and the podiatrist (Tone's recommendation) as I had problems with my feet, what doesn't get better in the pregnancy due to weight.  And postnatal I see now the acupuncturist Becky who is helping me with recovery.  I'm in Luck's Yard at least once a month.  Can absolutely recommend.  And the ladies at the front desk are absolutely adorable as well. Always super friendly and helpful.
Inge Gino
Tone has been an active British Chiropractic Association member for many years promoting the profession through her various projects. Together with her daughter, Tone has been encouraging chiropractors from around the world to take part in ChiroGlobal and tell us why they love being a chiropractor! Tone was awarded Chiropractors Chiropractor for 2018 after being nominated by and voted for by the BCA membership for her commitment to the development of this profession.
Catherine Quinn DC BSc MChiro FRCC (Sport)
President of the British Chiropractic Association
Here are some of the great testimonials we received as a result of our recent customer survey.  They cover the range of therapies we offer:
Tone is a true professional, friendly and efficient. I felt very safe in her care
The traffic light system & MOT approach were very helpful in the past. I am now finding the Maintenance System to keep being in the 'green' & prevent a slide back very beneficial!
The location is extremely convenient. The staff are always welcoming and the
treatment sessions I have received have been beneficial to my well-being and health. Thank you.
Great practice. Well done all!
For me, Tone is simply the best. What more can you ask for!
Very relaxing and healing
Very friendly professional therapists who have successfully resolved my issues with lots of encouragement- thank you!
Nothing I think you can improve, the whole team are always very helpful and the treatment is the best!
I love my appointments at Lucks Yard it's like going to see friends but with the right amount of professionalism. My wellbeing has improved enormously.
I cannot at present think of any suggestions which might help you to improve further from your already very high standard of professional and friendly care. But if I do, I will certainly let you know!
It's good to come along and have a session as a body MOT!! once in a while without having any major problems or niggles.
Who would not love being "chiropractic-ed" by Tone, unless she calls it deep
massage!
I have been treated by Nic seven times now and it has made a big difference to my wellbeing. I have less back and leg pain, my posture awareness has increased and I feel better allround. Thank you so much!
Lucks Yard is a positive experience with a feeling of confidence….feel better just for coming!!
I keep coming back!
Great overall service. Friendly, professional and always willing to offer more advice on the wider topic of healthy living
I've had a repeating back pain for 20yrs+ which caused other problems over the years. I have had a few visits, I'm pleased to say the pain is not as intense & working live is not as painful. So yes I would recommend Luck's Yard.
Visits to Luck's Yard are therapy in themselves – it is such a positive place & the camaraderie between practitioners and customers is brilliant, you cannot help but feel better for the experience – let alone the treatment you are there to receive. 1st class in every respect. Go Tone & Luck's Yard Team – we love you
Tone has always been very helpful and positive in her dealings with me and she has great power in relaxing very tense joints
Always a pleasure to come to Luck's Yard and the children always love their sessions with Tone!
Really I can't think of anything that could be better. I am completely satisfied, both with the treatment and advice given.
I am always greeted with a smile at your Reception point and always with my name. The same with the Chiropractor who is always sunny and bright. Thank you
I haven't needed to come to you for some time, but am pleased to know that you are there for any time in the future. Many thanks
Clone Tone so that there are several of her in the practice. She's great!
Always get a satisfactory result. No problems, frees all the stuff bits and gets me going again. Everyone is very friendly. Keep up the good work.
Tone is amazing with the knowledge of her body and she has really helped my son and husband – she is amazing !!
The massages were wonderful, he has a very strong hand which I liked very much and didn't talk too much- I like silence!
Brilliant team of therapists, our whole family uses Lucks yard. Rather than go to the GP we go to Lucks Yard!
Great group of people who are genuinely interested in your health
Very, very good treatment , that good that I don't need any more for a while.
Immediately I have any more trouble with my back , I'll be back immediately Thanks.
Love coming to see you. Keeps me from seizing up!  Thank you!
Mariana has been fantastic and I've recommended her to so many of my friends
Tone & Rob have kept the entire family on track for 7 years. We all wish we could see them more, and they've given us huge knowledge on how to lead healthier and stronger lives thus far. They have taken away a lot of pain and got us all fitter and more upright!
With each visit I learn something new and relevant about my body and how I treat it. I have to say Lucks Yard's main interest has always been keeping patients healthy, rather than a business selling treatments. Truly remarkable!
Rob was absolutely fantastic. So much so that I have booked another massage.
There's no 'luck' in the 'yard', it's just professional!We are very happy with all treatment both my husband and I have received at Luck's yard over the past couple of years.
"I would and do recommend Luck's Yard Clinic, because of the excellent practitioners working there. Tone Tellefsen has been my chiropractor for years and most of our newborns see her. Frances Box is so informative and excellent too. The clinic has a lovely atmosphere."
"I visit Luck's Yard for several reasons. Tone has looked after my back, neck, hips and knees for some years. She is very clever and knows so much. Each treatment is suited to each visit. Over a period of time I have cut down a lot on painkilling tablets. Plus, the whole place is restful and attractive."
"I have been successfully treated by three of the practitioners at Luck's Yard Clinic. They are all very professional, very friendly and pleasant to be with. The overall feeling at the Clinic is one of relaxed and friendly professionalism."
"Last night John and I spent a valuable hour at Luck's Yard Clinic with Tone, supported by Priscilla, talking to a group of us about backs and back pain. After a lovely welcome and tempting biscuits to munch on, Tone talked to us about caring for our backs. Various skeletons illustrated points that she made and we learned how good posture is the key to it all. Quite a few of us more elderly folk didn't necessarily have the benefit of Human Biology at school and I personally felt it a great lack in my education. You can read all the books and look at all the pictures, but to have an expert talking to you with the opportunity to ask questions is quite a privilege. Thank you, Tone. More please! You should have seen how John and I were sitting up straight watching television when we got home!"
"Lucks Yard Clinic is a delightful Chiropractic and Health Care clinic in Milford, Surrey. It has a warm, friendly welcoming atmosphere. Tone is a very gifted practitioner. I always benefit from my treatments with her, feeling much more energised, flexible and comfortable. I would recommend anyone suffering from back pain to try the experience."
"I have been a patient at Luck's Yard since it opened in June 2007, mainly for podiatry, chiropody and chiropractic massage. The treatment is excellent, the practitioners charming and very efficient."
"They've got it all at Luck's Yard including a warm, welcoming atmosphere. They care, they treat, they explain and they make a difference. It was my lucky day when I found them because it changed my life and is the best natural health resource in the area."
"Excellent service from various members of the clinic. Very effective treatment."
"Visiting the Luck's Yard Clinic is like coming home, only better! It has an incredibly friendly atmosphere and the chiropractor I met there (Mariana) completely sorted out my sore neck and shoulder which was so bad I could literally not get out of bed in the morning. Tone is an outstanding and inspirational woman, who radiates positive energy. If only everybody could be like her, the world would be a much better place!"