"If you want to see a rainbow you have to learn to see the rain."
Paul Coelho
Certainly over the last few weeks, due to the many NHS rainbows that are currently on display as a message of gratitude from the nation, I have come to contemplate the meaning of this Paul Coelho quote in terms of my work as a life coach for children, teens and parents.
There are three conditions that enable a rainbow to be seen:
The sun
The rain
A person standing between the sun and the rain.
The sun makes rainbows when white sunlight passes through raindrops. The raindrops act like tiny prisms. They bend the different colours in white light, so the light spreads out into a band of colours that can be reflected back to you as a rainbow.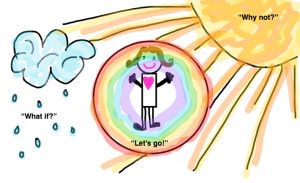 I see coaching as an incredible opportunity for self-growth for all ages – a specific environment that provides the space and time for learning how to identify and bear challenges in order to realise personal goals – a space to stand between the rain and the sun.
Whatever raindrops are falling in your life, my purpose is to act rather like the tiny prisms so that each challenge can be reflected back to you as an opportunity for personal growth.
There have certainly been many raindrops falling during this unprecedented time, yet I am grateful beyond measure for being able to bear standing in the rain as this time has truly created some stunningly beautiful rainbow moments of learning for my clients and for me!
For a moment of mindfulness and gratitude here is a link to The Nitty Gritty Dirt Band's  "Stand a little rain."  Listen to song here!
Melissa Carter – Family Life Coach at Lucks Yard Clinic