Luck's Yard Clinic are recruiting young "posture ambassadors" to get people straightening up.
Here at Luck's Yard Clinic we are finding more and more young people are presenting with headaches and back pain.
Although it is difficult to pinpoint a definite cause we feel much of this pain is due to the increasing use of handheld devices including tablets and mobiles or video games. A study showed that 41% of students suffer from neck and shoulder pain while 33% complained of low back pain (1).   Another study showed that the use of screens for more than 2 hours daily increased the risk of developing bodily discomfort (2).
In celebration of World Spine Day we decided to spread the message about how to keep your spine smiling by talking to 510 young pupils of Waverly Abbey C of E Junior School in Tilford about the importance of taking care of their spine.
Daniela Colores Jardon Chiropractor at Luck's Yard clinic gave the children some simple tips for their everyday activities such as carrying backpacks, standing, sitting and lifting.  The idea is to help children avoid developing poor posture and "text neck" which can progress to headaches or pain and has the potential to affect their learning, concentration and sleep.
We also wanted to encourage them to help others understand the importance of taking care of their spine by creating the Luck's Yard Posture Police Squad to help spread the message and help others work on their posture to avoid "text neck".
Luck's Yard is also asking young people to contribute pictures, poems or suggestions to help people move more and feel the benefits of being more active.
On Facebook Daniela is reading out a suggestion and then attaching to our Christmas Tree outside the clinic.  Click on this link to see what the Posture Ambassadors are saying: https://en-gb.facebook.com/LucksYardClinic/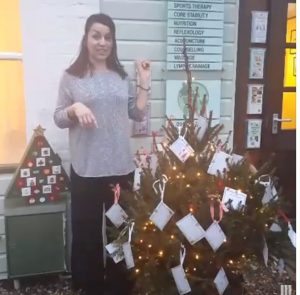 Daniela and Jasmine Latimer, another Luck's Yard Chiropractor are offering free spinal and scoliosis health checks to students between the ages of 4 and 18 during November and December (conditions apply: 2 students per chiropractor per week on a first come, first served basis).
References:
Zhi et al 2013)
Donald et al 2011
For more information contact Luck's Yard Clinic on call 01483 527945