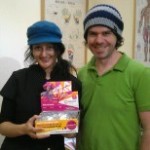 On Thursday March 28th all the staff at Luck's Yard Clinic donned their best hats to help raise awareness for Brain Tumour Research.
Altogether we raised £350 by selling special 'hat' badges.  All monies will go towards raising funds for research into the prevention and treatment of brain tumours, as well as ultimately finding a cure.
Funds raised will be allocated to existing UK centres where brain tumour research is already being carried out.
Many thanks to our patients who so generously donated to this important and worthwhile cause.
If you would like more information on Brain Cancer Research please visit their website:
http://www.braintumourresearch.org