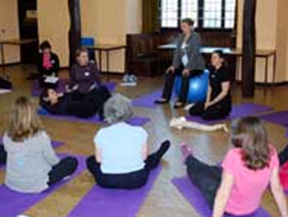 Surrey Advertiser March 2009
Chiropractic clinic invites exercise instructors for back pain workshop
A local chiropractic team from Milford has held a workshop with exercise instructors to discuss back pain. The three chiropractors from Luck's Yard Clinic, Tone Tellefsen Hughes, Mariana Ferencakova and Priscilla Stevens, together with pilates instructor Bridget Lincoln, hosted the workshop last Friday at Milford Village Hall.
The idea came from a local pilates instructor who asked the chiropractors for more information about back pain so that she felt more confident taking on clients who had a history of back conditions. "It's a great opportunity for collaboration within the community", said Priscilla Stevens who organised the workshop. "Chiropractic patients who have recovered successfully benefit from one-to-one exercise classes that train core stability. This decreases their chances of reinjuring their backs."
The workshop revised some basic anatomy and physiology for back conditions and then the question was put to the floor: how to modify exercises for rehabilitation.
The success of this event was demonstrated in the feedback questionnaire. 86% of attendees said they would recommend the workshop to their colleagues. Plans for repeating the workshop are underway and if any exercise instructors are interested, please contact the Clinic for more details.